Peace Chamber Program
From the curious music-lover to the life-long chamber music enthusiast to musicians of all levels hungry to learn more, the Peace Chamber program provides music and music education on your terms.

Join program director and renowned violist Miles Hoffman as he invites his friends and colleagues from around the country to the Peace Center to perform, teach, inspire, celebrate and ensure that chamber music is accessible to all.

Take a look below for the full list of upcoming performances, talks, workshops and master classes.

Want to learn more about Miles? He's a musician, author, host of "A Minute with Miles" on NPR, founder of The American Chamber Players and now, a resident artist with the Peace Center!
Chamber Music Series
---
Developed and curated with all music-lovers in mind, the 2016-17 Peace Chamber series unites Miles Hoffman and fellow members of The American Chamber Players with special guest artists from around the world for unforgettable live performances.
Become a Peace Chamber Season Ticket Holder
Every performance brings an exciting new chamber artist to the Peace Center. So, why just attend one? Subscribe to the whole season and you'll ensure you always have a seat.
Click here to learn about the benefits of being a season ticket holder.
Classical Insights: A Chamber Music Lecture Series
---
How did a deaf composer create timeless music? What's it like being in a performer's head during a performance? Was J.S. Bach able to remember the names of all 20 of his kids?
Focusing on the theme of Classical Insights, Miles Hoffman goes slightly beyond the music to touch on topics music historians tend to miss. These four FREE lectures are more than history lessons, they're first-hand looks into the psyches of the musicians who create the music we love.
Summer Workshops
---
Catering to talented amateurs, accomplished musicians and everyone in between, summer workshops provide invaluable experience to chamber musicians looking to hone their craft.
Participants will be divided into small groups based on experience level, where they will work closely with professional visiting artists in an authentic chamber setting.
And at the end of the workshop, students will have the opportunity to utilize what they have learned during a chamber showcase open to friends and family.
Take a look at the classes and visiting artists, then click one of the links below to get started!
Extended payment plans are now available! Call 864.679.9222 to learn more today.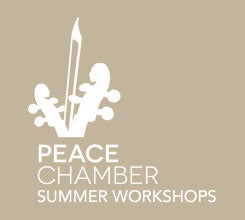 7.20.17 - 7.23.17
Peace Center Presents
Huguenot Mill
Master Classes
---
Open to the public for observation, master classes invite select musicians and ensembles to work on prepared pieces with Miles Hoffman, The American Chamber Players and visiting guest artists.
To observe an upcoming class, RSVP below.
Are you a musician or ensemble of musicians looking to participate? Send us an email to [email protected]!
---
The Peace Chamber program is proudly sponsored by Campbell Young Leaders.