Peace Passport Field Trip Series
2019-2020 SEASON ANNOUNCEMENT
Be among the first to learn about the new season including the new Imagination Series, designed for young learners, PreK – 2nd grade!

Attendees will receive out-of-district professional development credit through the exploration of the Peace Passport Educator Guide and Student Worksheets. Plus, those in attendance receive priority registration! Enjoy light refreshments and enter to win books and tickets to upcoming performances.

Click here to RSVP or contact the Box Office at 864.467.3000.
---
Introduce your students to the Peace Center through our Passport Series. Curated for all students, our arts programs invite young learners to become global citizens in an active exploration of world music, dance, and theater. The STEM programs unravel the mysteries of the universe through interactive performances that merge science and the arts. By learning about the richness of cultural traditions, scientific discoveries, and works of art – in class and through live performances – students cultivate a global perspective that nurtures empathy and understanding.
Our arts-centric approach engages students in learning through the works of art with inquiry, exploration, writing, and art making. Critical thinking skills are developed through open-ended questions that challenge developing cognitive abilities. "What do you notice about the work of art?" and "Where does the music come from?" promote a wide array of interpretations requiring students to examine the work of art and themselves more closely.
Performances recommended for Pre-K through 2nd grade include: Women of the World, Ballet Folklórico de México, Erth's Prehistoric Aquarium, and the Villalobos Brothers.
ADDITIONAL RESOURCES
Bring the Peace Center into the classroom with FREE teacher resource guides and student worksheets! To best meet the curricular and instructional expectations for classroom teachers, we have aligned all resource guide activities with the South Carolina College and Career Ready Standards.

If you have questions about the shows or the process for reserving tickets, email us at [email protected] or call 864.467.3032.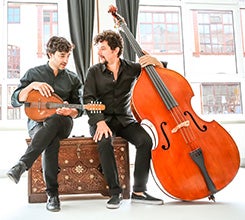 Peace Passport Field Trips
4.12.19 Gunter Theatre
Peace Passport Field Trips
4.23.19 - 4.25.19 Gunter Theatre
Special Services
To provide the richest possible educational experience, many show pages include study guide materials and informative video clips. For select performances, we offer educational talks, artist visits and Peace Center tours. To learn more, contact us.