Peace Center
Master Class with DIAVOLO
Gunter Theatre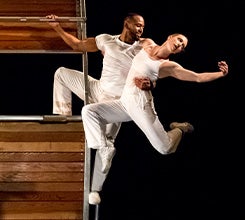 Buy Tickets
Oct 7, 2019
Free - Available with ticket purchase
On Sale Now
Join DIAVOLO's company members for an intermediate to advanced dance master class in their signature style, which integrates movement with structures and objects. Combining ballet, modern dance, acrobatics, gymnastics, partnering, and teamwork exercises, the class will challenge participants to dance in new and interesting ways.
---
To inquire about becoming a participant, email [email protected].
Ticket holders for the performance may observe the master class for FREE. To hold a seat, call the Peace Center Box Office at 864.467.3000 or add the master class during the online check-out process.