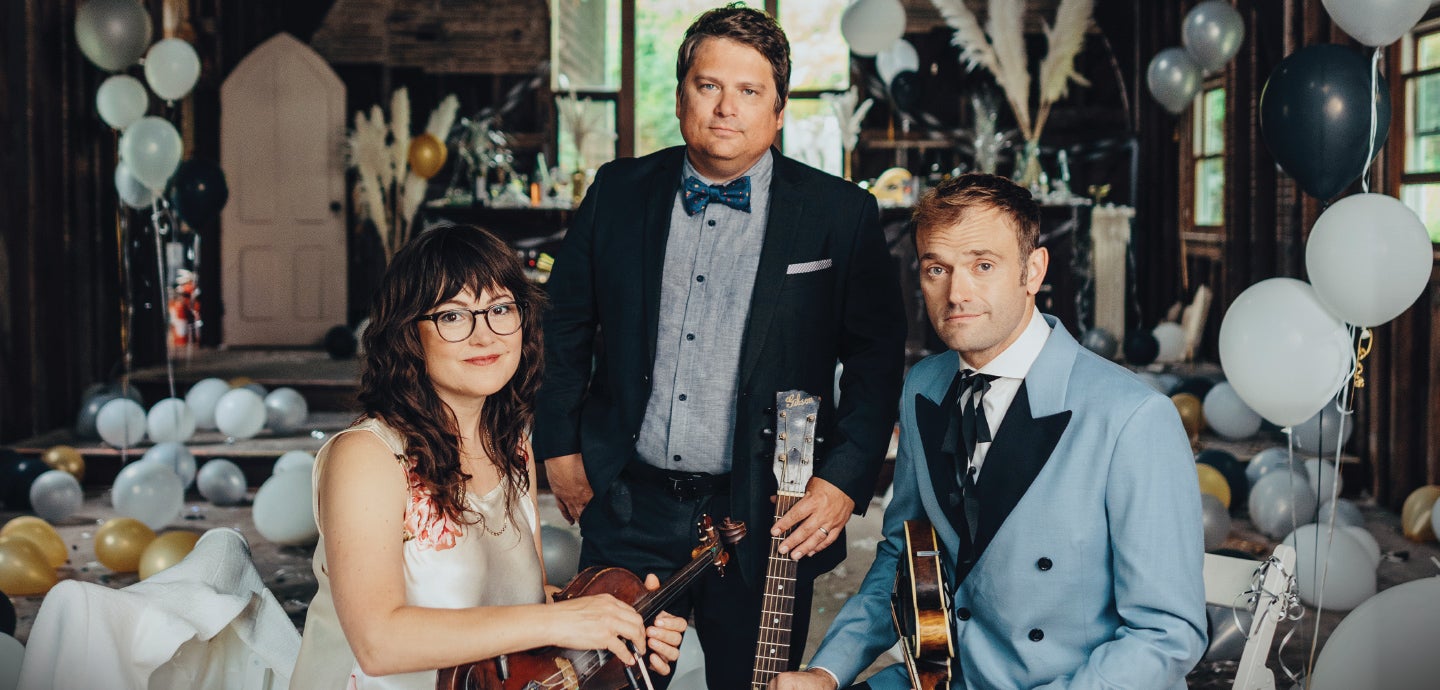 Peace Center
Nickel Creek
Peace Concert Hall
Date

June

3

, 2023

Event Starts

8:00

PM

Ticket Prices

$45-$184

Availability

On Sale Now
Event Details
Nickel Creek is the platinum-selling, internationally renowned roots trio of mandolinist Chris Thile, violinist Sara Watkins and guitarist Sean Watkins. The Grammy-winning band has revolutionized folk and roots music since first performing together as children at a pizza parlor in San Diego in 1989, signing to acclaimed roots label Sugar Hill Records after wowing the bluegrass circuit for a decade. Nickel Creek quickly broke through in 2000 with their Grammy-nominated, Alison Krauss-produced self-titled LP, which showcased not just their instrumental virtuosity but their burgeoning songwriting prowess. The trio quickly followed that effort with the Krauss-produced This Side, a landmark release that earned Nickel Creek the Grammy Award for Best Contemporary Folk Album and brought their progressive take on acoustic music to a broader audience, greatly influencing the sound and trajectory of roots music in the process. 2005's Grammy-nominated Why Should the Fire Die? found the trio pushing genre boundaries even further, incorporating elements of alt-rock and indie pop into their singular brand of acoustic music. Nickel Creek's most recent album, 2014's critically acclaimed and joyously received A Dotted Line, ended a seven-year recording and touring hiatus for the band, during which members explored other musical and creative avenues.
Each member of Nickel Creek has taken part in many outside projects over the years, too. Thile is a 2012 recipient of a MacArthur Fellowship and served as the host of the American radio variety show Live from Here (formerly A Prairie Home Companion) from 2016 to 2020. Over the course of Nickel Creek's career, Thile has released collaborative albums alongside world-renowned musicians like Yo-Yo Ma, Edgar Meyer, Brad Mehldau and Stuart Duncan. His Grammy-winning band Punch Brothers has released six studio albums, the most recent being 2022's Hell on Church Street, a re-imagining of the beloved 1983 Tony Rice album Church Street Blues. Sean Watkins has kept busy outside of Nickel Creek, too, co-founding Watkins Family Hour alongside Sara, releasing three albums with the collective and maintaining the long-running collaborative show in Los Angeles for a decade. Sean has also released a string of solo albums, most recently 2020's This Is Who We Are with the Bee Eaters. Sara Watkins' extracurricular projects include the aforementioned Watkins Family Hour band, as well as co-founding the Grammy-winning roots trio I'm With Her alongside Aoife O'Donovan and Sarah Jarosz. Sara has released four studio albums, most recently 2021's Under the Pepper Tree. She has contributed fiddle to recordings by artists like Phoebe Bridgers, the Killers and John Mayer.
Nickel Creek will release Celebrants, their first new album in nine years, March 24 via Thirty Tigers.
Nickel Creek will be joined by opening act Gaby Moreno.
VIP check-in begins at 4:30 pm in the Peace Concert Hall lobby.
One reserved seat ticket
Access to private Q&A with Nickel Creek
Access to private 3 song mini-set by Nickel Creek
One screen printed limited edition poster (signed & numbered by the poster artist)
Early entry to venue
Crowd-free merchandise shopping
*Please be advised that VIP packages are operated and executed by a third-party.
Armed with a warm, soulful sound, Moreno creates music that offers an intoxicating invitation into her musical world for English and Spanish speakers alike. Since moving to Los Angeles from her native Guatemala, singer-songwriter-producer Gaby Moreno has released 7 albums, earned a Grammy nomination for her albums Alegoría (Best Latin Rock or Alternative Album, 2023) and Illusion (Best Latin Pop Album, 2017), and won a Latin Grammy (Best New Artist, 2013). Moreno has shared the international stage with pop music luminaries such as Bono, Andrea Boccelli, Tracy Chapman, Ani DiFranco, Punch Brothers, Hugh Laurie, Buena Vista Social Club, Calexico, David Gray, and many more. Through her various projects, Moreno has redefined Americana as the only prominent Latina in the genre today, opening the doors for other marginalized voices and transforming the landscape overall.