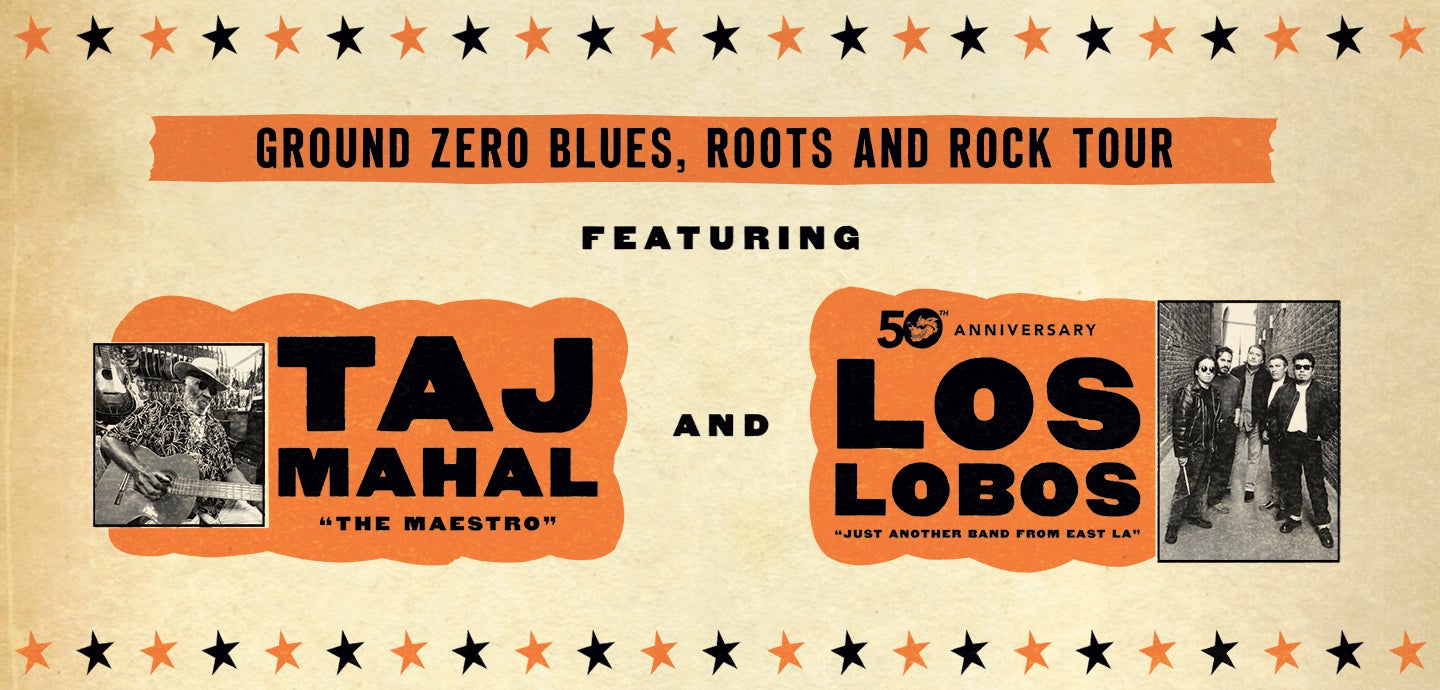 Peace Center
Taj Mahal & Los Lobos
Peace Concert Hall
Date

June

4

, 2023

Event Starts

7:00

PM

Ticket Prices

$45-$75

Public Availability

On Sale Now
Event Details
No matter where we come from, we are all part of the same circle. We all want to dance, to get out of our heads, and tap into ourselves. When delivered by the Taj Mahal Quartet, the blues can take us there. For more than 40 years, Grammy-winning legend Taj Mahal, internationally renowned bassist Bill Rich, and revered percussionist Kester Smith have taken blues on a joyride through reggae, funk, jazz, cajun and more, leaving a trail of swinging hips and raised palms in their wake. In 2019, guitarist and lap steel master Babby Ingano joined the group, and the trio became the Taj Mahal Quartet. The four-match musical virtuosity with downhome grit unlike anyone else: a blend of sophistication and humble familiarity that is equally at home on a shotgun-shack porch or a Carnegie Hall stage.
In 2023, Los Lobos celebrates its 50th anniversary as aband, a rare and impressive feat, as the band continues its great legacy. The quintet enjoyed critical success early on, wining the Grammy® for Best Mexican-American Performance for "Anselma" from its 1983 EP, and tying with Bruce Springsteen for Rolling Stone's Artist of the Year in 1984. A major turning point came in 1987 with the release of Ritchie Valens' biopic, La Bamba. Their cover topped the charts in the U.S. and U.K., and rather than capitalize on that massive commercial success, they chose to record La Pistola y El Corazon, a tribute to Tejano and Mariachi music that won the 1989 Grammy® for Best Mexican-American Performance. That kind of sharp artistic turn has become Los Lobos' trademark, serving to both fuel the band's creativity and keep their fans engaged. Los Lobos has sold millions of records, won prestigious awards (four Grammys® altogether) and made fans around the world. But perhaps its most lasting impact will be how well its musicembodies the idea of America as a cultural melting pot – bringing together different genres to create a new sound that's greater than the sum of its parts.
Taj Mahal and Los Lobos will be joined by opening act North Mississippi Allstars.