Peace Center
Master Class with Ensemble 4.1
Gunter Theatre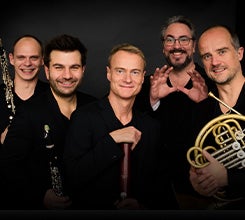 Buy Tickets
Feb 3, 2020
Free - Available with ticket purchase
On Sale Now
Participate
Ever wonder how four wind instruments and one piano achieve their perfectly integrated sound? Join Ensemble 4.1 for a master class experience that will illuminate how to generate a range of expression and explore a tonal spectrum in any piece of music.
To inquire about becoming a participant, email [email protected].
Observe
Ticket holders for the performance may observe the master classes for FREE. To hold a seat, call the Peace Center Box Office at 864.467.3000 or add the master class during the online check-out process.