Peace Center
Master Class with Third Coast Percussion
Gunter Theatre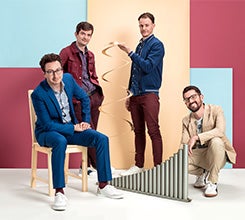 Buy Tickets
Feb 11, 2020
Free - Available with ticket purchase
On Sale Now
Join Grammy®-winning percussion ensemble and accomplished educators Third Coast Percussion for a dynamic master class that will explore a broad range of instruments, styles, and techniques.
---
To inquire about becoming a participant in one of the master classes, email [email protected].
Ticket holders for the performances may observe the master classes for FREE. To hold a seat, call the Peace Center Box Office at 864.467.3000 or add the master class during the online check-out process.