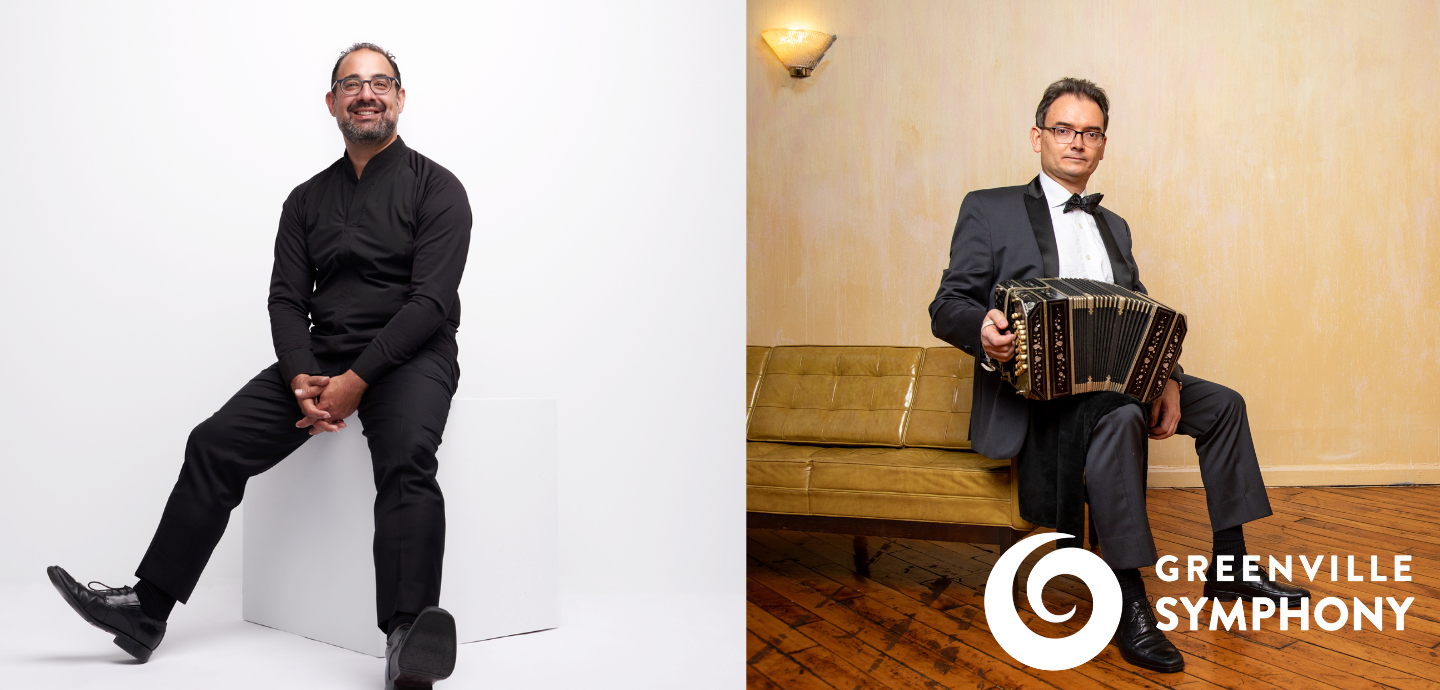 Greenville Symphony Orchestra
Yaniv Attar and Hector Del Curto: The French Connection
Peace Concert Hall
Date

March

16

-

17

, 2024

Ticket Prices

$20-$85

Availability

On Sale Now
Event Details
Yaniv Attar, conductor
Hector Del Curto, bandoneon
Program:
Lili Boulanger: D'un matin de printemps
Astor Piazzolla: Concerto for bandoneón
Modest Mussorgsky: Pictures at an Exhibition
To learn more about the conductor and guest artist, please visit www.greenvillesymphony.org.
D'un matin de Printemps (Of a spring morning) was the last piece Lili Boulanger ever wrote. On the list of composers like Schubert and Mozart who died too young, Lili succumbed to tuberculosis in 1918 at just 24 years old. While the composer was physically frail, this piece demonstrates her inner strength and transcends pain with its vitality and joy. Fly, Lili, fly.
Tango revolutionary Astor Piazzolla was just nine years old when his family gave him a beautifully wrapped gift box that he hoped would contain a toy. He was thoroughly disappointed when he opened it and found a bandoneón inside. Lucky for us, he took to it after all and wrote Concerto for Bandoneón in 1979. Many say it is his very best work. An expert in tango and the work of Piazzolla, GRAMMY-winner Hector Del Curto has traveled the world as a soloist.
The most recognizable tune from Modest Mussorgsky's Pictures is by far "The Great Gate of Kiev." If you're like us, you wonder: what is this gate? Are there pictures? And the answer is no. The gate is a figment of dear Modest's fertile imagination, which doesn't make it any less majestic and arresting, of course. Maybe more. And especially when you consider he wrote this, one of the most performed orchestral works of all time in just three weeks. Come hear why the greats like Mussorgsky are great for a reason.
Join Jessica Satava, Greenville Symphony Orchestra's Executive Director, for a pre-show talk in the Peace Concert Hall 1 hour before the Saturday and Sunday GSO performances.