Peace Chamber
Master Class with Lara St. John
Gunter Theatre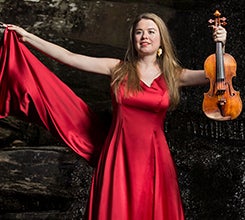 Buy Tickets
Feb 22, 2019
FREE – AVAILABLE WITH TICKET PURCHASE
On Sale Now
Gain major inspiration from virtuoso violinist Lara St. John as she leads a dynamic master class with insights into shaping phrases, string techniques, and the finer details of performance that all create the flare and power of the music we hear. St. John discusses the importance of establishing a good practice routine of scales, arpeggios, double stops, and raw technique.
---
To inquire about becoming a participant in one of the master classes, email [email protected].
Ticket holders for the performances may observe the master classes for FREE. To hold a seat, call the Peace Center Box Office at 864.467.3000 or add the master class during the online check-out process.