Peace Center
Master Class with The Ukulele Orchestra of Great Britain
Ramsaur Studio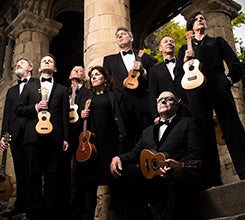 Buy Tickets
A Group of Plucking Ukes: How to make a group of ukuleles sound more than just the sum of its parts.
Join in with the Ukulele Orchestra of Great Britain as they arrange a few well known tunes for live performance. Participate in their genre-clashing antics as they rework songs, allowing everybody a chance to sing, twang and pluck along, while learning a little more about the role each musician plays in the orchestra. The Ukes of GB believe that the ukulele should be an inclusive, fun instrument and have devised a workshop open to all abilities.
---
To sign up to participate, contact Michael Ciaccia at [email protected].
Open to The Ukulele Orchestra of Great Britain ticket holders for observation. Click here to purchase tickets to the show.