Peace Center
Percussive Bodywork Master Class with Dorrance Dance
Peace Concert Hall Rehearsal Room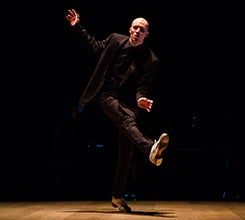 Buy Tickets
Nov 17, 2018
FREE – AVAILABLE WITH TICKET PURCHASE
On Sale Now
Known for their innovative and uninhibited style, Michelle Dorrance and Associate Artistic Director Nicholas Van Young will introduce participants to rhythms and body percussive work. This master class will include a dynamic warm up, learning a short routine, and insight into the history of tap and hip hop. The class provides a positive atmosphere for learning this incredible American art form and hopes to keep the teachings of the master hoofers alive and well for generations to come!
Tap shoes not required. Open to all skill levels.
---
Sign up when purchasing your performance ticket online or contact the Peace Center Box Office at 864.467.3000 to hold your seat.